Commercial Wheelchair Lifts
Vertical Platform Lifts
---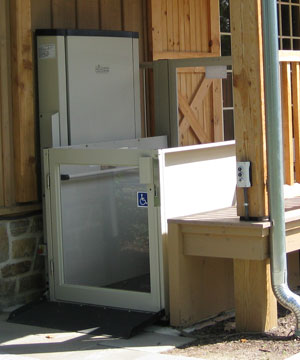 SAVARIA MULTILIFT
Standard and Enclosed
The Multilift is a vertical platform lift, designed for low-rise travel indoors or out. With its durable design, the Multilift is popular for accessing decks and porches even in demanding climates. Handling up to 750 lbs. this lift can carry a passenger in a wheelchair with ease. An array of safety features ensures safe operation including sensors to stop the lift if it senses an obstruction.
Other features include:
Rugged construction to withstand weather extremes
Reliable operation
Non-skid platform in three standard sizes
Standard finish — beige powder-coat paint
Manual lowering crank
Enclosed model has aluminum framed enclosure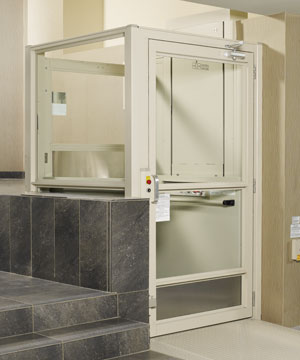 SAVARIA V-1504
The Savaria V-1504 lift is built to carry a wheelchair and passenger safely up and down one or more levels. Suitable for installations in public and commercial buildings, this Savaria lift features an extremely versatile design that can be configured and customized to suit virtually any project requirements and aesthetic needs. From the rugged outdoors, to the most luxurious office tower lobbies, the Savaria V-1504 lift is ready to serve with its reliable performance, ease of use and range of finish options. Features of the Savaria V-1504 include:
Flexible design and features; can be built to suit any home or commercial project
Smooth start, stop and overall ride
Enclosed drive system means no machine room required
Large ADA-compliant platform
Automatic battery recharging system
Extensive finish options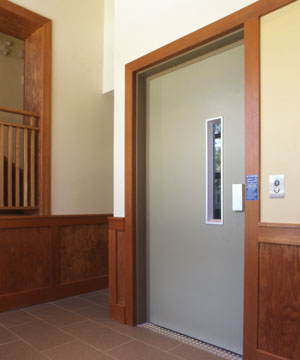 SAVARIA PROLIFT
Standard and Heavy Duty
The Prolift vertical platform lift is a smooth, quiet and efficient operation lift that can be installed in an existing or new structure. Its durable design and the wide variety of options to choose from make it a great affordable lift that meets your accessibility requirements. With a hydraulic drive, the Prolift is a reliable and quiet system suitable for use in places of worship, schools and other public buildings.
Savaria Prolift features include:
Reliable hydraulic drive and durable construction
Great value; no frills design with good complement of features
Emergency alarm and stop buttons
Emergency battery backup
Heavy-duty capacity up to 1,400 lbs.
Configure to travel up to 14 feet with as many as four stops
Inclined Platform Lifts
---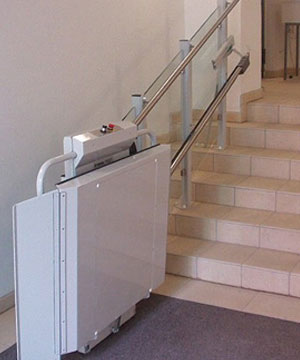 SAVARIA DELTA
The Savaria Delta inclined platform lift carries a passenger with wheelchair up and down a single flight of straight stairs by travelling along a rail system mounted alongside the stairs. Suitable for home or commercial applications, this lift is well suited to environments where an elevator or vertical lift cannot be easily accommodated. The Delta is a popular choice for schools, churches and other public buildings.
Features of the Savaria Delta include:
Motor is housed on board the unit with no need for a machine room
Folding platform, available in ADA-compliant size, allows easy access to stairs when lift is not being used
System battery powered allowing it to operate through a power failure
Affordable alternative to elevator or vertical lift
Obstruction sensor system on platform
Manual lowering device and emergency stop button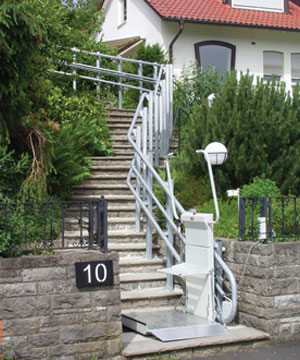 SAVARIA OMEGA
The Savaria Omega inclined platform is designed for access over stairs with multiple levels, curves or intermediate landings. This lift carries a passenger with wheelchair up and down stairs by travelling along a rail system mounted alongside the stairs. The Omega can be used for many types of installations, including inside and outside curves, spiral stairs and multiple levels, custom built to your specifications.
Features of the Omega include:
Affordable alternative to an elevator or vertical lift
Space-saving design and optional out-of-the-way parking allows full access to stairs when not in use
Visible components are kept to a minimum
Available ADA-compliant platform includes fold-out and a/v movement alarm
Pedestrian warning light and movement alarm
Non-skid platform with side safety flaps
Emergency stop button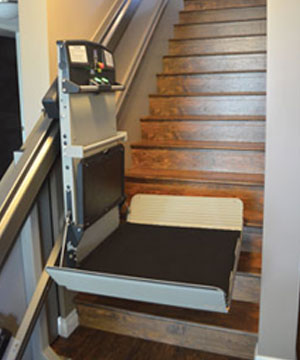 GARAVENTA X3
The X3 is a simple and robust lift featuring a 550 lb. load capacity, battery operation and wireless call stations. The X3 is fast and easy to install and provides excellent value, Garaventa lift reliability and safety combined with innovative technology. Additional features of the X3 include:
A choice of three platform sizes
Curved safety arms that fold down when stored, reducing overhead clearance requirements
Large, easy-to-use platform control buttons angled towards the passenger
Safety sensors under the platform and on the leading ramp
Manual fold and unfold
Platform emergency stop button
Optional attendant remote control; folding seat for passengers not in a wheelchair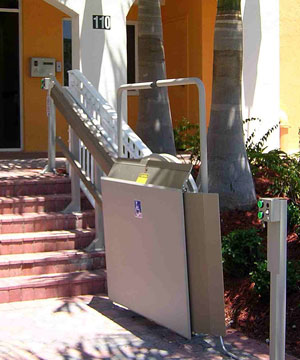 GARAVENTA Xpress II
The Garaventa Lift Xpress II is designed to provide economical access between two landings. The platform travels on two rails which are secured directly to the wall or to support towers, and is propelled by means of a carriage mounted rack and pinion drive system. When the platform is not in use it is folded, taking up minimal space on the stairway. The Xpress II is cost-effective and is ADA compliant. With a variety of standard and optional features available, it can be designed to suit the needs of the user and building owner. Additional features of the Garaventa Xpress2 include:
Capacity of 495 lbs.
Choice of three platform sizes
Emergency manual lowering for use during power outage; emergency stop button
Under-platform sensing plate which detects obstacles underneath the platform
Fully automatic safety arms available to further increase the safety of the passenger
Internal ramp sensor to prevent a wheelchair from being off-center on the platform deck
Large illuminated direction control buttons allow for independent operation of the lift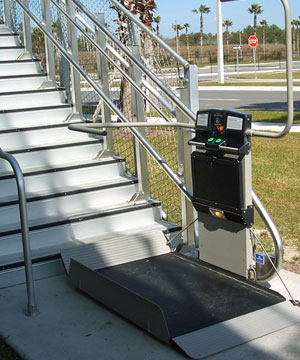 GARAVENTA ARTIRA
This state-of-the-art, custom-curved inclined platform lift combines durability and design flexibility with sleek new styling, more safety features and innovative, user-friendly controls. This wheelchair lift fits easily in to most stairways and does not require extensive renovation. The Artira is ideal for providing accessibility in heritage buildings, schools, churches and restaurants and is the ideal solution for tight spaces or where floor space is very valuable.
Features of the Artira include:
Intuitive control system that guides users
Ultra-quiet drive system
Sensors automatically stop lift if obstruction is encountered
Smooth start and stop
Pedestrian safety lights
Emergency stop button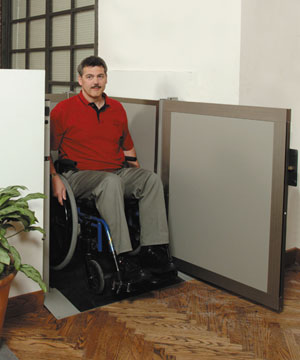 GARAVENTA GENESIS
The Genesis Enclosure model is an easy and cost-effective accessibility solution for public buildings and is suitable for indoor or outdoor installations. The Genesis Enclosure has a lifting capacity 750 lbs. Some of the features of the Genesis Enclosure model are:
Lock monitored by safety circuit to ensure door or gate are properly locked
Seven different lifting heights to a maximum of 171 inches
Controls include emergency stop/alarm switch and keyless
Manual emergency lowering — Hydraulic model only
Manually emergency lowering hand wheel in case of power outage
Panels, doors and gates can be designed from extensive variety of colors and finishes