Inclined Platform Lifts
Inclined platform lifts are designed to provide a means of access along a stairway for persons with physical challenges. A versatile design makes them the perfect solution to accessibility problems in the home or business. Inclined platform lifts can be installed in existing stairways with minimal modifications, with the track either wall mounted or installed on optional support towers. A unique design allows the lift to be "folded" neatly out of the way when not in use, leaving the stairway clear for pedestrian traffic.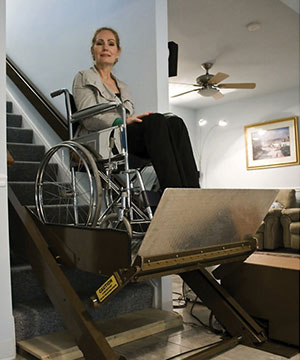 BUTLER
Adaptable to nearly all installation applications, the Butler lift is long-lasting and affordable. All of Butler Mobility's wheelchair lift products are rugged, sturdy units with UL® CSA certified components and are useful in commercial or residential applications. Butler Mobility Products are manufactured and assembled in Lewisberry, Pennsylvania.