Dumbwaiters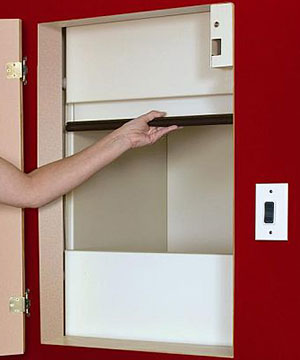 HARMAR ASCENT
Unlike other dumbwaiters, the Ascent comes complete &#8212 the entire drive system is pre-installed on the underside of the car, with the car's chassis/trolley pre-installed on a section of the track. On-site installation is simple &#8212 cutting up to a full day of installation time compared to other dumbwaiters. The Ascent offers superb performance for years to come. Features of the Ascent include:
Fast, easy installation
Comes with car and drive system pre-mounted on the track
Cable drive system pre-installed on car
No pulleys to install
A single, simplified rail system
Easy plug 'n' play wiring
Made in the USA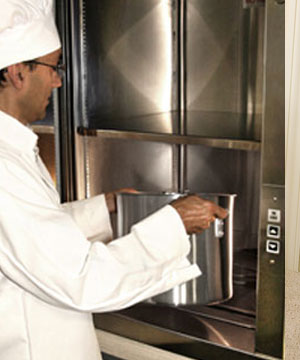 WAUPACA CABLE-WAITER
The Cable-Waiter™ offers convenience and flexibility, with economy. Available in wood, steel and stainless steel cars, this unit boasts up to a 100-lb. capacity. A roll top gate and a shelf are standard on all wood cars. Metal cars offer steel shelves, and a choice of bi-parting or slide-up gates. Designed to carry everything from delicate glassware to laundry, groceries, etc., this agile model is also comfortable in light-duty commercial applications, such as offices or medical clinics.
Standard features include:
Car safety
Slack cable device
Top final limit switch
Call-send stations
50-lb. or 100-lb. capacity
Welded steel or wood car
Car gates