Curved Rail Stair Lifts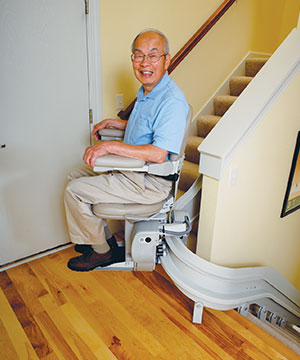 BRUNO ELITE CURVE STAIR LIFT (CRE-2110)
If your curved or multi-landing staircase has become a challenge for you, the Bruno Elite Curve restores the function of your staircase for everyone in beautiful graceful style. The Elite Curve delivers an effortless ride with subtle power and remarkable stability over any stairway configuration. Key features of the Elite Curve include:
Arms, seat and footrest flip up creating plenty of space to walk up the stairs
The stair lift rail can be installed within 7 inches of the wall
Can be equipped with optional top or bottom park to facilitate exit
Stair lift can be installed on either side of the stairway
A comfortable plush seat
Many power options and upholstery selections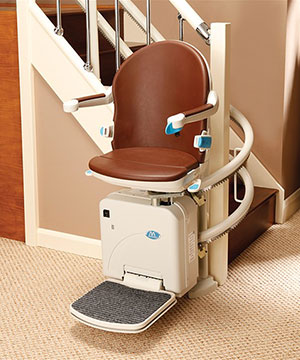 Handicare STERLING 2000
The Sterling 2000 curved track system is tailored to your individual staircase, ensuring the best fit possible. The track can be designed to take you from the ground floor directly onto the top landing level, to suit your needs exactly.
Optional powered features to fold footplate and swivel seat at top of staircase allow for ease of exit
Twin-rail system designed for stable and smooth ride
Special orders available so track can be finished in any color
Can be combined with powered automatic hinge solution to prevent track from obscuring any doorway at base of stairs